Where your clothing becomes a powerful tool to express your mix of elemental energies, values and aspirations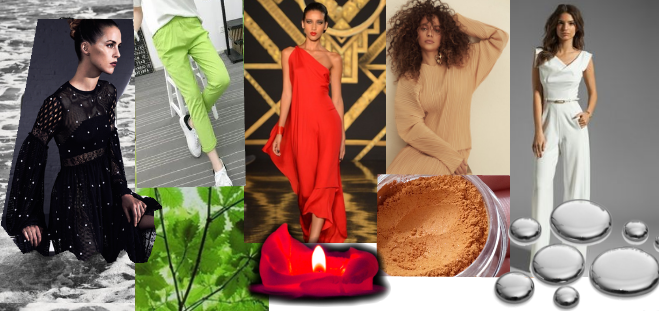 Imagine delving into the fascinating realm of energy composition through the lens of the
FIVE ELEMENTS THEORY OF FENG SHUI.
In Feng Shui we believe that everything is built upon five distinct Elements,
WATER, WOOD, FIRE, EARTH and METAL
each boasting its unique energetic qualities, which manifest in the physical world through colors, shapes, materials, and designs. Additionally, the yin and yang forces, like the ebb and flow of day and night, permeate various aspects of our daily activities. 
It's a voyage of energy exploration and self-awakeining.
Your womanly archetype is determined by the presence and composition of these Elements and yin/yang forces within you. Once you understand your archetype (or archetypes), discovering your Guiding Mantra will be a profound revelation, guiding your life choices in harmony with your unique style.
 Understanding these energies will empower you to align them with your essence, life intentions, and lifestyle.
It's an eye-opening experience that will shed light on the origins of your choices, who you are, why do you what you do, granting you valuable insights into your own decisions and actions and those of others too, ultimately fostering better relationships. 
Your Fashion Feng Shui Consultation teaches you to recognise the Elemental energies of:
your Essence, who you are, 
your Intentions, what you desire,
your Whole Appearance, how to dress your Whole-self
Why Choose a Fashion Feng Shui® Consultation?
Are you ready to embark on this journey and unlock the secrets of your Archetype and energies?
This special consultation package includes the following phases:
A) BEFORE THE FIRST ONLINE SESSION: VISION BOARD and CLOSET MINI-AUDIT 
VISION BOARD: Before the date of our first online session, you will have to create your "Vision Board" that you will send to me by email few days before our appointement. It's your Vision about your life, it's your Board. No right, no wrong. No rules. No limitations. You can do it as you like to express YOU.
CLOSET MINI AUDIT: Before the first session, you will have to select 4 items from your closet, take clear pictures of them and send them to me by email few days before our appointement.
Those 4 garments should correspond to the following:
- Something you love.
- Something you do not like and you do not wear.
- Something you like but you do not wear. 
- Something you do not like but you wear it.
B) FIRST ONLINE SESSION OF 1H15min: ELEMENT ASSESSMENT SESSION
Starting from your Vision Board and MiniAudit
1) First step: Unlock Your Essence
Discover Your Primary and Secondary Essence Archetypes: Unveil your authentic self, the lens through which you perceive the world. This pivotal step is deeply intertwined with your unique personality.
That's your Elemental Confort Zone. 
Ask yourself: which elemental archetype aligns with my core values and innate traits?
Also take a moment to assess what kind of people, places, pasttimes, clothes make you feel in your element.
This is where you find fulfilment and you communicate your Authentic Self to others.
Here, you feel "at home" in everything you wear. Can you identify a garment that fulfills you? Why?
2) Second Step: Reveal Your Life Intentions Archetype
Identify your Intentions to define your Ideal Self, whose conscious desires represent the energy of your mind. Visually affirming your goals in your attire fortifies you to achieve them. Your clothes are your cheerleaders. They are FORTIFYING because they energetically communicate your desires so that you can manifest them into your life. Can you identify a garment that fortifies you? Why?
AT THE END OF THIS SESSION, You can affirm your ELEMENTAL ARCHETYPE(S) for your ESSENCE and for your INTENTIONS.
C) SECOND ONLINE SESSION OF 1H15min: ELEMENTAL SIGNATURES
3) Third Step: Decode the design Elements
Watch as the world around you and your closet, take on new meaning, unveiling a series of physical and energetic qualities in terms of colors, shapes, textures, fabrics, patterns, and more. Dive deep into your elements, choosing energetic design elements that integrate your personal energies into your clothes so that each garment functions in your life beacuse it is a hologram of your spiritual, mental and physical self. 
4) Fourth Step: Synchronize Your Energy Mantra Style:
Merge all these elemental energies into a combination that's uniquely yours, a style that resonates deeply and perfectly complements your lifestyle. Create your Elemental Fusions.
The Service of 299 USD with a discount of 100USD.
This price is valable for any subscription of the service until the 23th November 2023, with an engagement payement before the 23rd November of 50USD. The service can be done afterwards, according to each parts schedules, but in any case before the end of 2023.
The payment can be done in twice, 125USD at least 48hours before the day of the first session and the remaining 125 usd 48hours before the second session.
No refund for the 50 usd engagement payment will be done. 
Here's why you should consider a Fashion Feng Shui® consultation:
Discover your true self and express it through your style. No more settling for generic fashion trends.
Feel more confident and empowered as you align your appearance with your inner energy.
Boost your overall well-being by wearing clothes that harmonize with your personal Feng Shui elements.
Once you learn how it works, what to pay attention to, what really represents and fits your "whole" self, you can play with it and I strongly recommend to practice it in your daily actions. Not just in your closet, but far beyond.
You can also start to see other people around you, your clients, your friends, your family members under a different point of view, based on the 5 Archetypes, and, as a consequence, you might even improve your personal or professional interactions with them as you will have a better understanding of their elemental energies.
IMPORTANT NOTE ABOUT FASHION FENG SHUI CONSULTATIONS: The results you get out of these investments in yourself will be depending on your engagement to follow and adopt the various steps. I can be on your side to support you but ultimately it depends on you and on your engagement for this transformational style process. Do not expect to be told what to wear, as dislike an image consulting consultations, FFS does not follow the latest trends.